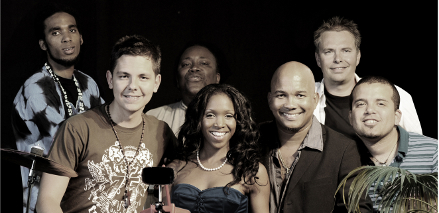 The new sound of Cuba
In 2008, the ensemble "Cuba Nova" embarked on its journey through new musical dimensions, combining Pop with smooth Jazz while at the same time refining this mixture with salsa rhythms. At times the sound is reminiscent of R`n`B, at other times it resembles Latin and fusion. A good-humoured and vibrant mixture ranging from world music to Lounge-Jazz is the result. Olvido Ruiz Castellano's sensitive, yet funky-sounding voice is supported by multi-layered percussion and full bass phrases. The warm sound of the piano melts together with the percussion and bass to display great musical sophistication. The Cuban singer bestows her hot-blooded, versatile voice upon the sound of Cuba Nova, adding expression to powerful and tender songs alike.
An accomplished instrumental sound is provided by drummer Tim Hahn, Alexis Herrera Estevez on timbales, Elio Rodriguez Luis on congas, and bassist Juan Camilo Villa. Hahn, Herrera Estevez and Rodriguez Luis have known each other for years – a friendship which began when they started working together with the famous and successful classical crossover specialists »Klazz Brothers & Cuba Percussion« (»Classic meets Cuba«). Together with their ensemble, these three musicians have won numerous awards including the "Echo Klassik" (2003, 2006), the Jazz Award (2003, 2005) and Grammy nomination. The the confident and, technically-speaking, perfect sound of Cuba Nova continues to reach audiences and achieve success.